We are passionate about polish pottery and having spent as much time in Boleslawiec, Poland as we have shopping, talking with factory owners and working with local businesses, we have come to appreciate every aspect of how this product is created. We have owned and operated Pacific Polish Pottery since 2000. We started off doing private shopping for people in Poland which led to the creation of a simple e-commerce site. This led us to importing and then wholesale. We eventually opened our own brick and mortar store while expanding our e-commerce site to include thousands of products. We absolutely love what we do.
Although it would be easy to think so, polish pottery is not all that we care about. We love love love animals. We have worked with, saved and rehabilitated dozens of animals that have found their way into our care. We even keep track of every one of them and their new families. We are never more complete than when we are taking care of something that can offer you nothing in return except unconditional love. Our own pets are spoiled and yes, they have their own polish pottery dishes. You will see a common theme in our store and some of the patterns we choose.
We are the original bloggers of Polish Pottery. We started our blog over a decade ago in part because of our love of the pottery but also our love of food. We wanted to share with you the things we enjoy every day. Several people have copied us over the years but so far, no one does it better. We are proud of that. We have moved on to a full blown food blog that is no longer polish pottery driven, but food driven. 90% of the food we make is photographed using polish pottery. As you can see they make for stunning serving dishes.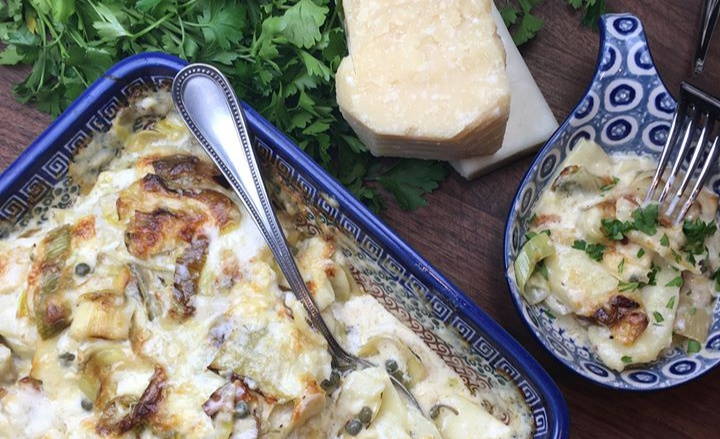 Join the Polish Pottery Supper Club
By the way, if you are looking for a new place to hang out online and love talking about pottery and food then I have the perfect place for you. I have a private Facebook group that is for all food obsessed people. Come join us and invite your friends. We have big things happening and this group is where I'll be tossing around ideas and seeking input. Who doesn't want to be part of that? See you there!